Welcome to the BluegrassCoinClub!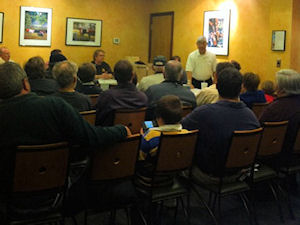 Are you a True Blue Numismatist? Then you have found the right site! The Bluegrass Coin Club was organized in 1994 by leading coin dealers in the Central Kentucky area. Jeff Garrett, President of Mid-American Rare Coin Galleries was influenced by a coin club when he was young and that's what launched his career into the coin business. The club provides a great opportunity to meet other numismatist who share common interests. The club also supports the American Numismatic Association (ANA), were you'll find a vast amount of knowledge about the coin world. We have monthly meetings, every third Monday of the month where you can buy, sell and trade coins with other members ...Read more
Good Information to Know
Click Tax Article to read an article with clear insite on taxes and coins.Also visit IRS.
Each meeting also features a small private auction for club members only. Meaningful, educational programs are also presented where you can increase your numismatic knowledge. Jeff Garrett also freely shares his knowledge and experiences with us concerning market conditions and activities at all the major national coin shows.
Our Regular Meetings are held at 6:30 PM every third Monday of the month at the Embassy Suites in Lexington Green, 245 Lexington Green Circle.
Come Join Us for a good time!